Nilavembu Kudineer Churanam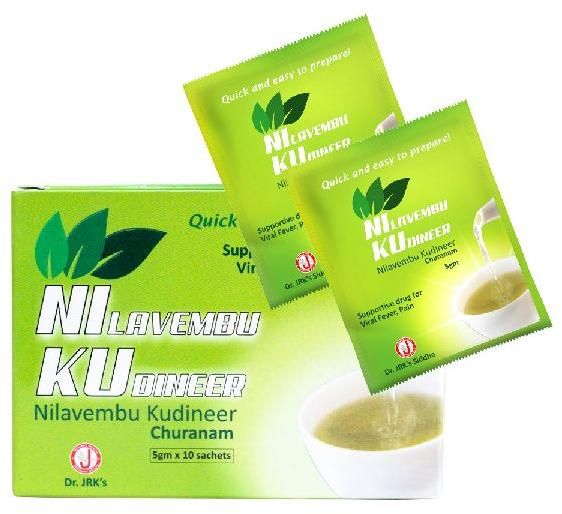 Business Type
Manufacturer, Exporter, Supplier, Retailer, Wholesaler, Trader
Andrographis paniculata
1 part (11.1%)
Vetiveria zizanioides
1 part (11.1%)
Plectranthus vettiveroides
1 part (11.1%)
Click to view more
Product Details
Santalum album
1 part (11.1%)
Trichosanthes cucumerina
1 part (11.1%)
Cyperus rotundus
1 part (11.1%)
Zingiber officinale
1 part (11.1%)
Piper nigrum
1 part (11.1%)
Mollugo cerviana
1 part (11.1%)
Nilavembu kudineer is
Effective for seasonal viral fever and associated pain
Aids in quick recovery from symptoms of viral fever
Boosts Immunity

Usage Instructions
Adults : Add 5gms (1 sachet )of powder in 60 ml of warm water and stirr. Drink Nilavembu kuidneer when warm. Take twice a day for a minimum of 5 days
Children 5- 12 years: Add 2.5gms (half a sachet) of powder in 60 ml of warm water and stir. Take twice a day for a minimum of 5 days

Scientific Proof
HPTLC study proved that Dr. JRK's Nilavembu Kudineer churanam (NIKU) is superior over marketed product.
Dr. JRK's NIKU contain all chemical constituents of 9 herbs in the finished product where as in market sample they are in less quantity or below detection level.
Looking for "
Nilavembu Kudineer Churanam

" ?