Akshun Pain Relief Lotion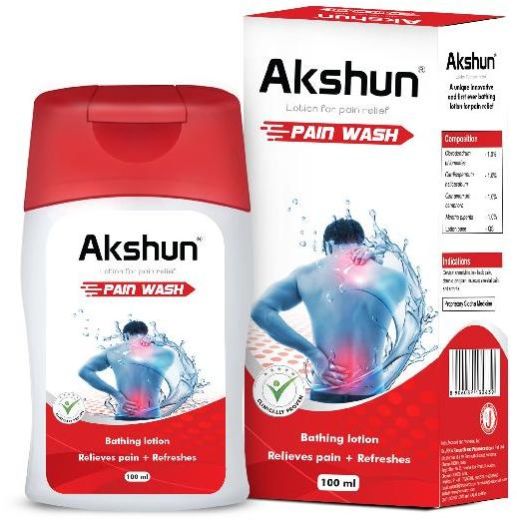 Business Type
Manufacturer, Exporter, Supplier, Retailer, Wholesaler, Trader
Clerodendrum phlomoides
1.0%
Cardiospermum helicacabum
1.0%
Cinnamomum camphora
1.0%
Click to view more
Product Details
Contra-indications
There are no known contra-indications.
a unique, innovative and first ever bathing lotion for pain relief


instant action/relief from pain & long lasting effect.


enhanced absorption of actives


gives refreshing feel after bath/ wash


cleansing benefit that keeps skin soft


non sticky and non messy formula


no odor post use


ease of use compared to other pain relief products


indications
cervical spondylitis, musculo skeletal pain and arthritis
also gives neck pain relief, shoulder pain relief, muscle pain relief, body pain relief, back pain relief, joint pain relief, low back pain relief, chronic pain relief
usage instructions
for those who suffer from generalized and chronic pain, daily use of akshun is recommended


apply akshun on the painful areas and entire body


wash off after 5 minutes with lukewarm water


get back in action


what is pain?


an unpleasant sensation that can range from mild localized discomfort to agony.


pain has both physical and emotional components


the physical part of pain results from nerve stimulation.


pain is typically classified as either acute or chronic.


acute pain


is due to sudden onset and is usually the result of a clearly defined cause such as an injury.


resolves with the healing of its underlying cause.


chronic pain


persists for weeks or months and is usually associated with an underlying condition, such as arthritis.


severity can be mild, moderate, or severe.


what happens in pain?


it is mediated by specific nerve fibers that carry the pain impulses to the brain where their conscious appreciation may be modified by many factors.


sometimes it is also a symptom of an underlying problem in the body.


pain and mild injuries have become a part of life in the hectic lifestyle of the modern time.


it is not advisable to pop painkillers to relieve from aches and pains as some might have side effects in the long run.


pain relief balms and emulsions can be used to treat pain effectively.


scientific proof


clinical study – 96% of patients showed good to excellent improvement within 7 days of usage.


proven to inhibit the pain inducing enzymes like cox1, cox2 and lipoxygenase.


safety studies – zein protein hydrolysis assay and collagen swell test proves non-irritant and non-cytotoxic in nature respectively.


Looking for "
Akshun Pain Relief Lotion

" ?