Dr.JRK's Kabasura Kudineer Chooranam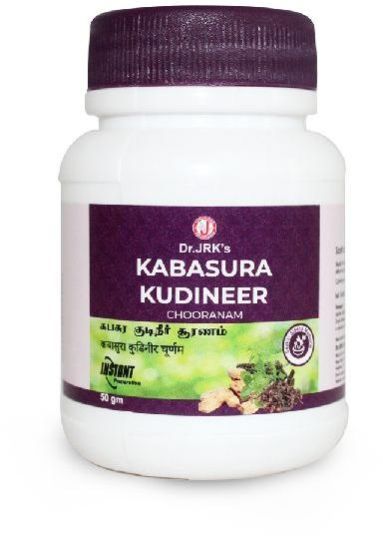 Business Type
Manufacturer, Exporter, Supplier, Retailer, Wholesaler, Trader
Chukku (Zingiber officinale)
6.67%
Tippili (Piper longum)
6.67%
Ilavangam (Syzgium aromaticum)
6.67%
Click to view more
Product Details
Cirukancori Ver (Tragia involucrate)
6.67%
Akkirakaram Ver (Anacyclus pyrethrum)
6.67%
Mulli Ver (Hygrophilia auriculata)
6.67%
Kadukkaithol (Terminalia chebula)
6.67%
Adathodai (Adathoda vascia)
6.67%
Karpooravalli (Anisochilus carnosus)
6.67%
Kostam (Costus speciosus)
6.67%
Seenthil (Tiosporia serratum)
6.67%
Siru thekku (Clerodendrum serratum)
6.67%
Koraikiizhangu (Cyperus rotundus)
6.67%
Nilavembu (Andrographis paniculata)
6.67%
Vattathiruppi Ver (Sida acuta)
1 part (6.67%)
Kabasura kudineer choornam, (kabam – cold; suram – fever; kudineer – concoction) is a sastric siddha formulation consisting of fifteen herbal ingredients. It is used for the treatment of fever with respiratory infections.

Benefits:
Helps in reducing the viral load
Reduces fever associated with respiratory problems
Herbal constituents of Kabasura kudineer bind to the viral proteins and prevents its replication
Instant ready to drink formulation

Indications
Aiya suram (fever with respiratory problems)

Scientific Proof
Recommended by Ministry of AYUSH to take kabasura kudinner to boost immunity during the pandemic and also as a supportive medication in Pandemic COVID-19 treatment.
Kabasura kudineer is being distributed by the Government of Tamilnadu for the people to boost immunity against COVID_19.
Looking for "
Dr.JRK's Kabasura Kudineer Chooranam

" ?